Gill Harris Long Mynd Tops Challenge
On the 25th anniversary of Mercia Fell Runners inception and as we approach the anniversary of the Long Mynd Valleys race, Nick Kingston, one of the clubs founders thought it fitting to devise a new fell running/walking challenge on the Long Mynd. Hence the Long Mynd Tops in tribute to our colleague Gill, who loved these hill.
It is designed to take in the 22 principal named tops in the National Trust open access area on the Mynd (Knolls is just outside, but with a concessionary path to it) and as the other trig point on the Mynd cannot be omitted, it also felt appropriate to include Gill's finger post on High Park.
The start and finish point is in the centre square of Church Stretton (a la Bob Graham). In fact, it is meant to be a Shropshire mini-version of the great Lakeland Classic Challenge. The 'Tops' to be visited in any order are are listed below. Most are distinct to an experienced hill person(!) though one or two (eg Wild More, Long Synalds) requires you to choose the tallest bit of heather - trust, honesty and integrity (which all true fell runners have in abundance!) mean of course you will leave the nearby path to do this.
There are numerous, interesting route choices, eg how much to use the portway spine of the Mynd, adding distance but reducing big climbs. Nick's rough estimate is about 20 miles and 5300' of climb,
We would welcome your views on route choice, and time limits, and want to keep a record of all those who complete the round, please Email secretary@merciafellrunners.org.uk
For a list of completed rounds Click Here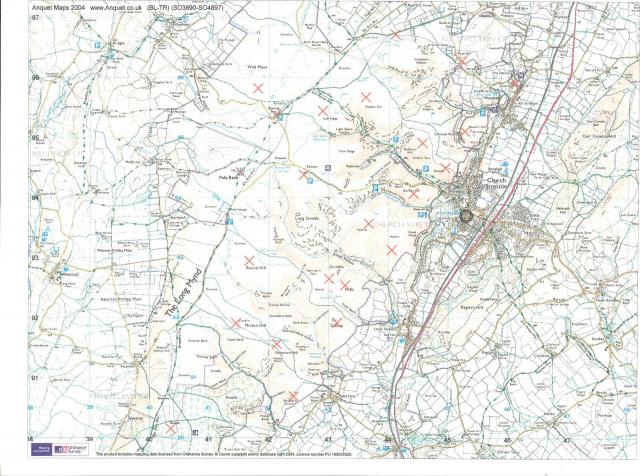 Ashlet
440 931
Bodbury Ring
445 949
Burway Hill
444 940
Calf Ridge
429 954
Callow
431 919
Castle Hill
460 959
GH Finger Post
440 967
Grindle
430 926
Haddon Hill
436 956
Knolls
403 901
Long Synalds
425 943
Minton Hill
415 919
Nills
432 925
Novers Hill
452 951
Packetstone Hill
421 915
Plush Hill
452 962
Pole Bank
415 944
Round Hill
416 929
Shooters
Knoll
424 906
Shooting Box
421 953
Stanyeld
449 944
The Square
452 937
Wildmoor
418 958
Yearlet
436 935