"Eggo" Challenge 2022 Corndon and Stapeley Hills
Posted by admin on 27 January 2017 Events Navigation News
We've just had 2 fantastic mornings setting up this years "Eggo" Challenge!
You are all welcome to try getting round and find the chocolates! Sorry it is quite a long way for some, but you will find these hills fantastic, and mysterious. One post is on an unusual cross shaped earth work, and another on a Hill fort, and then the Celtic Mitchells Fold stone circle near where you can park.
People can park at the Mitchell Fold car park, or along the rough tracks there or towards Corndon. We've put posts out for either a long course over Corndon and then Stapeley Hill in a near figure of 8. Approximately 18km, 800m climbing. Or two shorter courses over each hill 8km, 430m and 10km, 350m respectively. We'll leave the posts out for 4 weeks (removing them week April 25th).
You'll need the Welshpool and Montgomery map. The first post is in the trees just to the west of the parking spot track, SO 302978.
Most of this is on Open access land, but please try to keep to tracks so as not to disturb any ground nesting birds. And obviously keep to public footpaths when not on open moor. And - Please don't pinch all the chocolates as it's too far for me to replenish them often! Any problems please message me, as I know last year one of our grid references might not have been spot on!! If the references are not right this year - blame the wee helpers, Tim Parker, Dave Nichols and John Holland.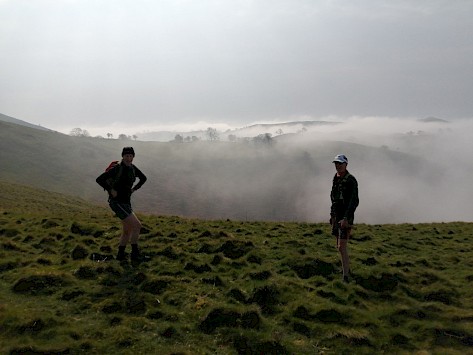 Post code of start: SY5 0JJ
This is being done under the remit of Wrekin Orienteers. Please be aware there are cliffs on the later part of Stapeley hill. Please do not do this activity at night as it goes near peoples houses. This activity is done at your own risk.
IMPORTANT
You are responsible for your own safety, there are (potentially lethal) hazards in places that require you pay particular attention to the map (specifcally crags). Also, its lambing season so if you take dogs please keep them on a lead. And please park sensibly and considerately.